R
eport
S
culptor Foundation
*** New Version 1.00 released
Free
Reporting Framework for VFP9
{easypaypal button=http://www.paypal.com/en_US/i/btn/btn_donate_LG.gif,address=djordjevic@primehome.com,itemname=Help continue development of Report Sculptor Foundation Project,amount=0,Amount=1}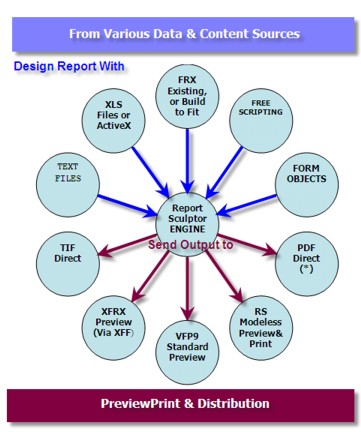 Report

Sculptor is OOP Reporting Framework, complement and extension to standard FoxPro reporting, which

focuses on providing alternative ways of designing reports with VFP9. Major goal of this project is
Fully OOP Reporting,  CrossFormat, Open, Extensible and Free of all known constrains.

Independent Report Engine
(Pure VFP Object)
- Alows
Free Report composition
using various report content sources
Report from everywhere and export anywhere.
See Scheme -->

- Replicates

native FoxPro controls

on RS report surface
- Venture into
True OOP reporting
using standard VFP forms and Form controls!   You get full control over every aspect of report creation.  Stage and control your own dataflow, bands, report paging, keeping grouped content together, report totaling - Almost everything. 

- 'Write-as-you-go'
Report Scripting
-
Use
existing FRX
reports and

combine

them with 
other report content sources (FRX Interpreter)

- WYSIWYG Free Page Designs
(
Absolute Positioning
)
-
RS Live Preview Surface
(Drill Downs, Hyperlinks etc)
- Replicate external files into your report.
Use
Excel
sheet as a page layout template or direct source of reporting figures.

- Venture into Text Programming with
RS Smart Text

.
Report from Plain Text file enriched with
script
and simple
HTML tags
.
This means that you can
now build long and complex text documents.
Include FRX
within running text and/or
add graphics
elements via OOP script embeded in text. Again you have full control. 

- Expose RS Report composition
RS Live Preview/Print, or

via standard VFP9 Preview Print
or to XFRX Preview/Print (with export to all file formats supported by XFRX). 

-

Free

Export to various File Formats

(

PDF*,TIF

,

XFF**)
*    Fast PDF export using O.S. library (Haru DLL by Takeshi Kanno, Wrapper class by DorinV).  No printer driver is required for producing PDFs.
**  XFRX intermediate format convertible to all other file formats supported by XFRX commercial tool. (For XFRX licence owners)

***RS Native Report Preview featuring Navigation tree, Search, FollowUp Ruler etc (Still under development).
- Easy to use and

easy to deploy

. Drop RsFolder on the server along with your own application, include couple of functions and libraries into your project and then simply call RS App. from the top of your main prg.


Customize

both

rsEngine

class and

RS Preview/Print

to better suit your needs.
See below picture of ReportSculptor demo report  sent directly to VFP9 native Preview/Print;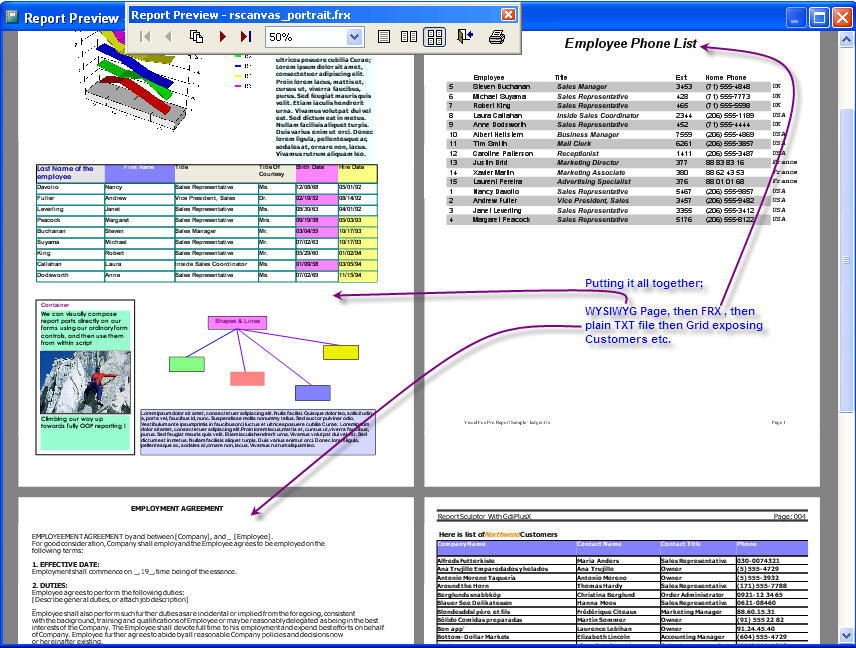 If you want to be able to do these kind of complex multipart reports easily in pure Fox, then stay here little bit longer...

Tell me more >> Latest News >>


...Get used to Reporting Power!


Enjoy using Report Sculptor :)
Djordjevic Srdjan
RS Founding Author
Limassol, Cyprus
Email: Admin(at)Report-Sculptor.com